INTEGRATED AIRCRAFT INTERIOR WORKS
DESIGN – PRODUCTION – INSTALLATION,
AFTER-SALE MAINTENANCE AND REPAIR
CHOOSE INDIVIDUALLY TO FEEL COMFORTABLE AND SAFE ON BOARD.
---
Development of technical specification and cabin layout
At this stage we discuss with the Customer all the design data (cabin purposes, number of seats, workplaces, restrooms, amenity spaces etc.).
Then we carefully analyze the Customer's demands and come up with the most relevant variation of cabin layout. On the ground of the agreed layout we draw up a detailed technical specification.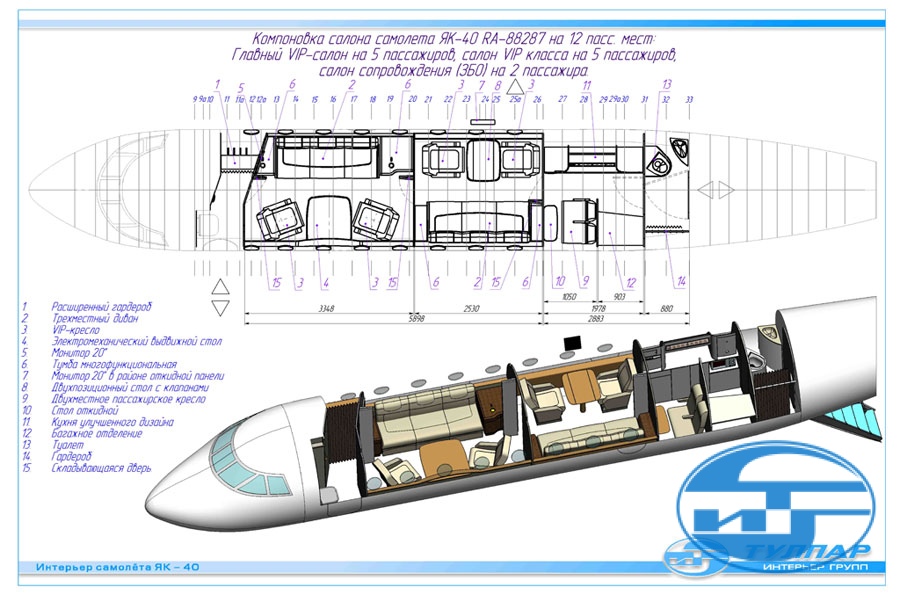 ---
Development of design plans and selection of finishing materials (preparing color schemes)
Basing on the Customer's desires regarding color scheme of the cabin, we offer several finishing materials to choose from: natural leather, faux leather, veneer, finewood, fabric, floor coatings, faux stones, decorative coatings etc.
Our designers develop a 3D model of the cabin by applying materials of the Customer's choice.
By means of cabin 3D model the Customer may virtually walk through the future cabin and evaluate its dimensions, furniture location, color scheme, design, etc.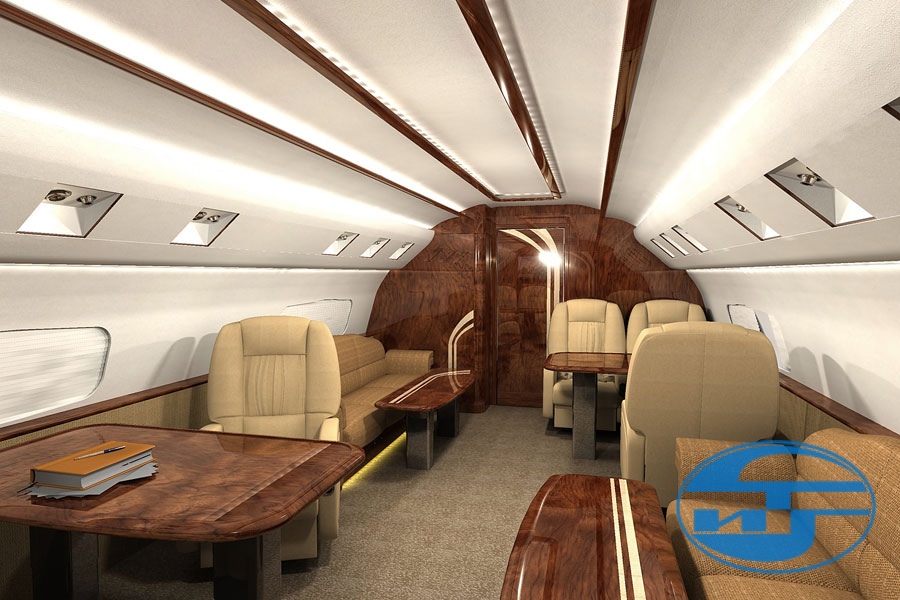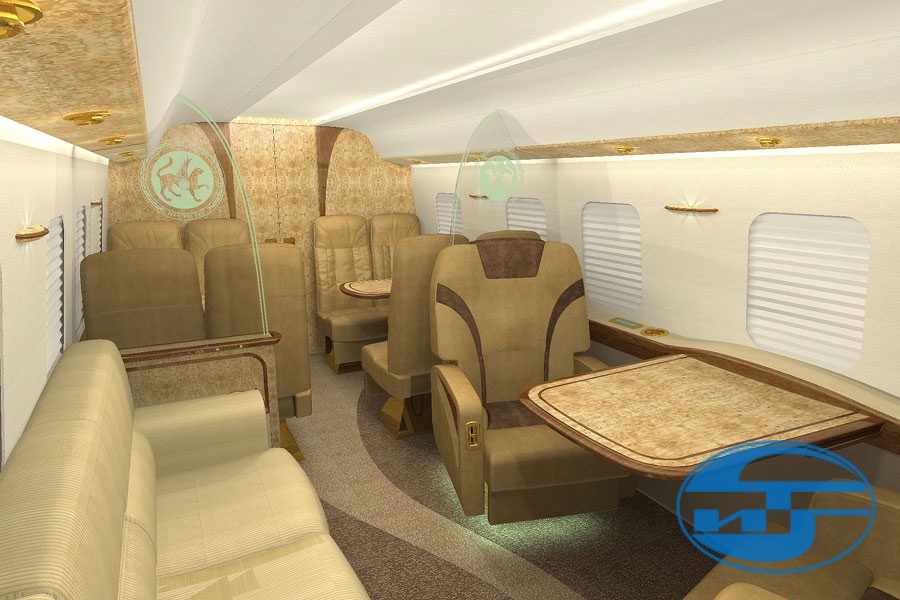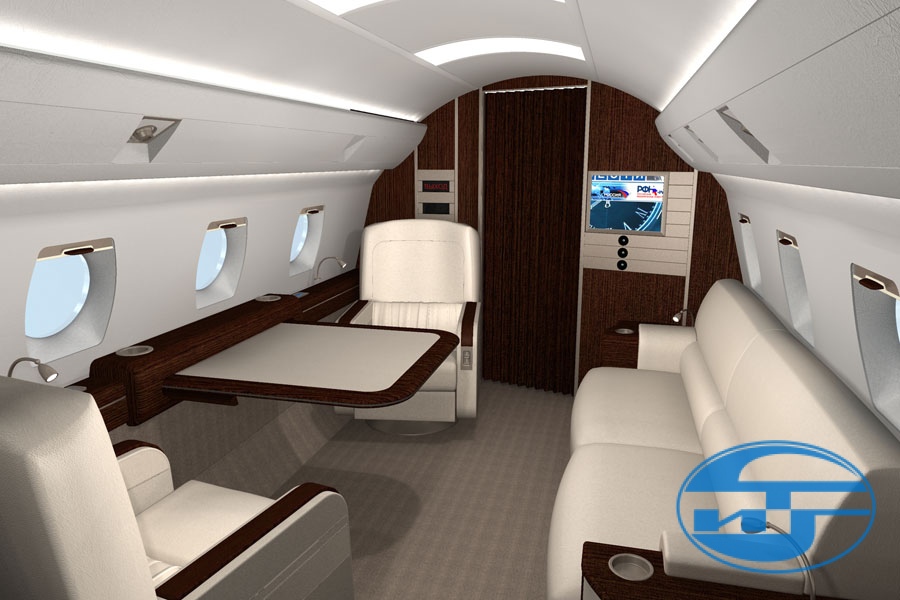 ---
Design and documentation preparing
At this stage we prepare engineering and design documentation for producing interior components and furniture, modification of fuselage components for the installation and design of electrical scheme.
Solid body modeling allows to avoid errors made at the design stage. Also it helps to heft the mountable equipment with pin-point accuracy in order to optimize weight and area of all the components and the necessary quantity of finishing materials. Solid models may be transferred to CNC machines in order to produce completed parts (without blue-print stage).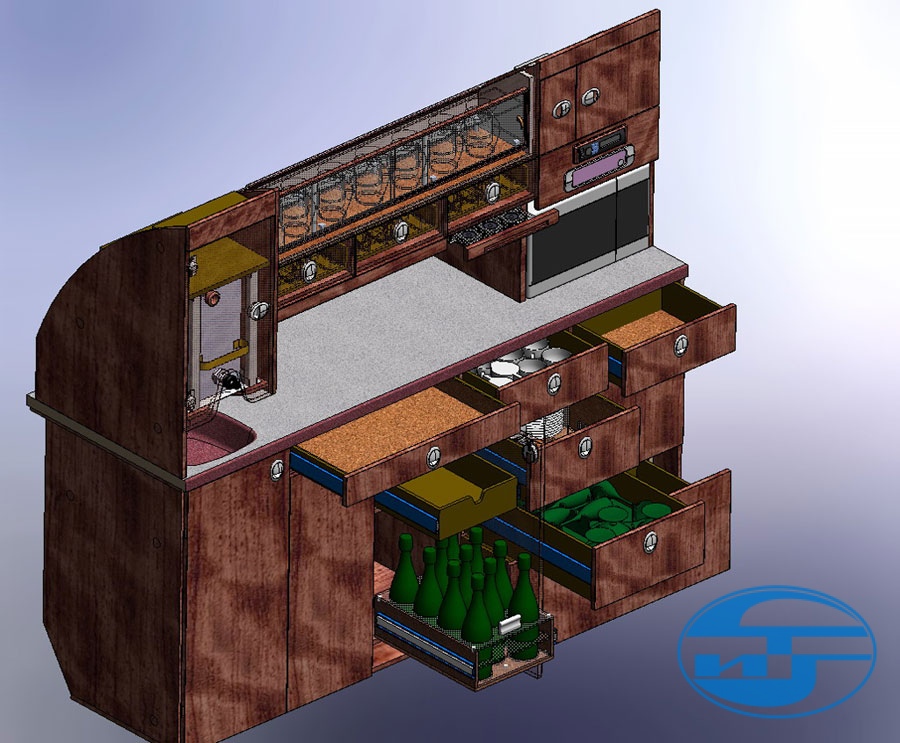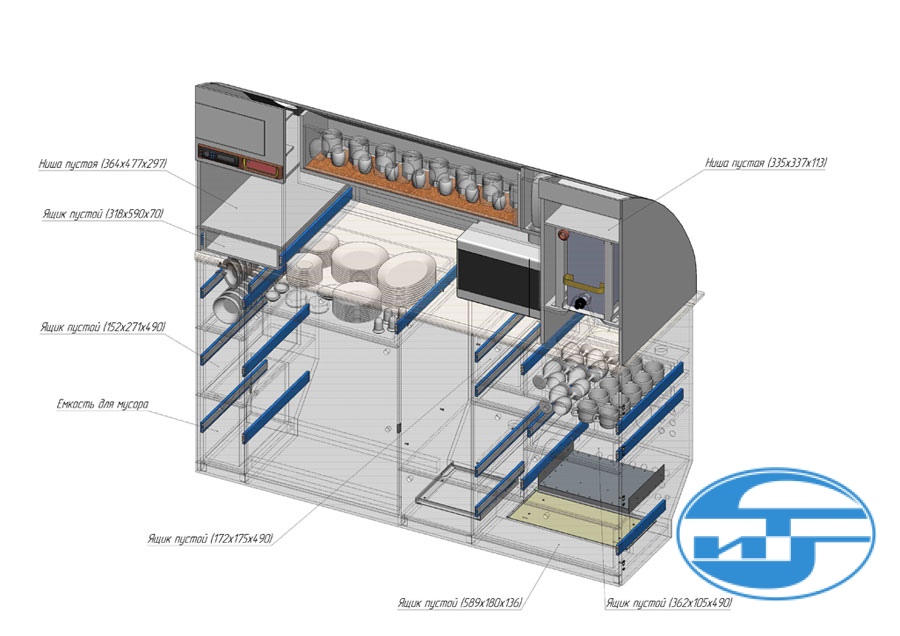 ---
Modification of subfloor and fuselage components for new equipment installation
After design drafting and documentation approval by the aircraft type designer, we perform a set of fitting, riveting and electrical works for installation of cabin equipment.
Production of aircraft interior components
Tulpar Interior Group produces all the interior components: seats, couches, lightings, air outlets, switchpoints, light-emitting diodes, furniture etc. All the components are produced i.a.w. design documentation, had passed all the tests and comply with all the aeronautical standards. Only high-quality exclusive and certified materials are used in interior refurbishment.


Interior completion
The final stage of interior production process is test fitting, final assembling of furniture, seats, sofas and installation of entertainment systems, accessories etc.